Due to their literary talent, women writers, poets, and essayists have been instrumental in questioning the status quo and influencing society's standards throughout history. These extraordinary women have had a lasting influence on literature and culture worldwide. They range from the trailblazing voices of the late 18th and early 19th centuries, such as Jane Austen and Mary Wollstonecraft, who established the framework for feminist discourse, to the contemporary literary feminists, like Roxane Gay and Chimamanda Ngozi Adichie.
The literary legacies of these renowned authors are powerful demonstrations of the written word's transformative capacity. With the support of book publishing experts and book writing companies, these influential women found a platform to showcase their talents. 
They championed equality, diversity, and social progress through their craft, leaving an indelible mark on literature and history. Their creations exemplify the written word's influence and ability to bring about change. Many of these well-known authors received assistance and direction from book publishing experts and professional book writing company, who acknowledged their abilities and gave them a platform. By using the craft of writing to promote equality, diversity, and social advancement, these women have enhanced the literary world and made a vital historical contribution.
Look down below to learn more about the world's best top 10 female writers.
The Best Top 10 Female Writers in the World
1. JANE AUSTEN (1775 – 1817)
At a period when the literary world was dominated by men, Jane Austen, a pioneer among female writers, made important contributions to literature by criticizing and commenting on the British landed nobility. Her books explored the intricacies of women's reliance on marriage and their look for financial stability, illuminating gender roles and cultural norms of the time.
Austen's limited notoriety stems from many of her works being published anonymously within her lifetime despite her profound insights. Her literary talents received the recognition they so richly deserved after her passing. The ongoing popularity of her six full-length novels, which include beloved works like "Pride and Prejudice" and "Sense and Sensibility," is demonstrated by the fact that they are rarely out of print.
In the written word, Austen's influence is felt as many of her works have been adapted into films, enthralling viewers all over the world. Her enduring impact has also been aided by critical articles and anthologies that examine her topics and storytelling devices. As a timeless source of literary inspiration and delight for future generations, Jane Austen's writings offer insightful perspectives into the gender dynamics and societal norms of her day. Her literary harm is still strong today.
Among Jane Austen's well-known works are:
Sense and Sensibility (1811)

Pride and Prejudice (1813)

Emma(1815)
2. MARY SHELLEY (1797 – 1851)
Mary Shelley, the well-known author of Gothic fiction, comes in second on our list of notable female writers in history. In addition to being a well-known science fiction author, she was also an editor, specializing in her husband's writings, the Romantic poet and philosopher Robert Bysshe Shelley. 
Married to feminist activist Mary Wollstonecraft and political philosopher William Godwin, Shelley was reared exclusively by her father following the untimely death of her mother. Shelley married young and committed to producing fiction and promoting her husband's works despite receiving a rich but informal education from her father, who encouraged anarchist living.
Famous works by Mary Shelley include:
Valperga (1823)

Rambles in Germany and Italy (1844)
3. EMILY BRONTE (1818 – 1848)
Another well-known female Victorian author is Emily Brontë, whose sole book, Wuthering Heights, is the reason for her notoriety (it's also on our list of classic novels that students should read!). 
Brontë was also a prolific poet, publishing her works under Ellis Bell. Her writing was considered "genius" when it was written and is so now. Her most well-known collection of poems by Currer, Ellis, and Acton Bell was a compilation of poems written by her sisters Charlotte and Anne and published under pen names.
Famous works by Emily Bronte are:
Poems by Currer Ellis and Acton Bell (1846)

Wuthering Heights (1847)
4. CHARLOTTE BRONTE (1816–1855)
Charlotte Brontë made a lasting impression on the literary community with her classic books. Charlotte didn't give up when publishers rejected her debut book, "The Professor," but she persisted. "Jane Eyre," her second book, which was released in 1847, was the one that made her a literary sensation. In addition to receiving positive reviews from reviewers, "Jane Eyre" became a classic work of British literature. 
Brontë's novel contributed significantly to the canon of literature by exploring themes of love, morality, and social class through the perspective of a strong and independent female protagonist. The portrayal of Jane Eyre by Charlotte Brontë is still a source of inspiration for upcoming generations of writers, and her lasting effect continues to enthrall readers.
Charlotte Brontë's famous works
Jane Eyre (1847)

Shirley (1849) 

Villette (1853)
5. LOUISA MAY ALCOTT'S (1832–1888)
Though she is most recognized for writing Little Women, American novelist, poet, and short story writer Louisa May Alcott has contributed far more to literature than you may have initially realized.
Abigail, Amos, and her parents raised Alcott in New England. She was one of the family's four daughters. Like the four sisters in her well-known book, Alcott put in a lot of effort to help her family through difficult financial times and used her writing as a release when she had free time. 
Little Women, which she wrote for the Atlantic Monthly starting in 1860, was her first big literary hit when it was published in 1868. To become well-known as a writer, she also released several graphic short stories for adults named A. M. Barnard in the early 1860s. 
After becoming well-known as a household name because of her first book, Alcott got involved in several abolitionist and feminist reform movements. She supported women's suffrage throughout her life until she died in 1888.
Some amazing work by Louisa May are:
Moods (1864) 

Little Women (1868) 

Little Men (1871)
6. GERTRUDE STEIN (1874 – 1946)
Prominent American author, poet, dramatist, and art collector Gertrude Stein played a significant role in the literary and literal feminism of the early 20th century. Her modernist writing style and "quirky" lifestyle helped her get widespread recognition. 
In her 1914 novel Tender Buttons: Objects, Food, Room, she employed experimental writing techniques like broken syntax and illogical writing flows. She also used repetition in her later works, such as The Making of Americans, to emphasize and reshape old notions. 
Despite being reared in California and having her birthplace in Pittsburgh, Pennsylvania, Stein spent most of her adult life in Paris. She used to arrange salons in Paris where prominent writers and artists would get together to exchange works of art. F. Scott Fitzgerald, Ernest Hemingway, and Pablo Picasso were among the notable guests.
Gertrude Stein's famous works:
Three Lives (1909) 

Tender Buttons (1914)

The Making of Americans
7. VIRGINIA WOOLF (1882 – 1941)
Rosalie English author Virginia Woolf was active in the early 20th century. Woolf, regarded as one of the most modernist writers of her day, tested and included a variety of literary tropes into the contemporary creative writing lexicon while also challenging the societal injustices meted out to women in the early 1900s.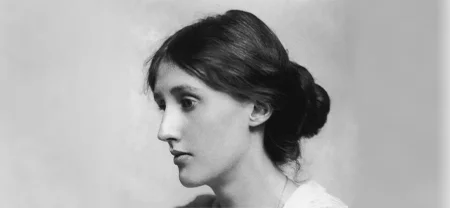 Woolf is credited with using the stream of consciousness in storytelling, particularly in A Room of One's Own, one of her best-known works.
Encouraged by her father, Woolf started writing professionally in 1900. She later relocated to London's more bohemian Bloomsbury neighborhood, where she helped create the renowned Bloomsbury Group. 
Some famous works by Virginia Woolf are:
Mrs Dalloway (1925)

To the Lighthouse (1927) 

A Room of One's Own (1929)
8. AGATHA CHRISTIE (1890 – 1976)
Dame Agatha Christie is a detective mystery writer whose novels have sold over two billion copies worldwide, making her the best-selling fiction author of all time, according to Guinness World Records. In addition to being the author of the longest-running drama in the West End, The Mousetrap, which has been performed since 1952, she is well known for creating the fictitious detectives Hercule Poirot and Miss Marple. 
Even on our list of classic authors to read, Christie's books are still well-liked by fans of detective fiction, and many of them have been adapted for television and film.
Some renowned works by Agatha Christie are:
Murder on the Orient Express (1934)

The A.B.C. Murders (1936) 

The Mousetrap (1952)
9. HARPER LEE (1926 – 2016)
American novelist Harper Lee, a Pulitzer Prize winner, is renowned for her 1960 book To Kill a Mockingbird. She was awarded the Prize in 1961 for the work, which also helped her become a well-known author. 
The novel's concept originated from Lee's early years in Monroeville, Alabama. Her father was a lawyer, merchant, and newspaper editor member of the Alabama State Legislature from 1926 to 1938. In this capacity, he represented two African-American men who were charged with killing a white storekeeper. After their conviction and hanging, both men became the central characters in Harper Lee's well-known novel.
Lee has won multiple accolades and been granted honorary degrees due to the book's popularity. Notable achievements include the Presidential Medal of Freedom in 2007 for her literary contributions and the Goodreads Choice Award for Best Fiction in 2015.
To encourage kids to understand more about how to empathize with tolerance and dissolve prejudice toward others, Harper Lee's works are now regularly taught in American schools. A novel that "every adult should read before they die," British librarians even ranked the book higher in 2006 than the Bible.
Harper Lee's famous works:
To Kill a Mockingbird (1960) 

Set a Watchman (2015)
10. TONI MORRISON(1931 – 2019)
Toni Morrison was an American novelist and editor born and raised in Lorain, Ohio. She gained notoriety for her ability to portray the Black American experience in her writing authentically; her characters often struggle to find themselves and their cultural identity in an unfair society, but her use of poetic style and frequently fantastical writing gives her stories a great deal of strength and texture.
Morrison was a successful writer who won numerous honors and recognition for her contributions. Morrison was awarded the Presidential Medal of Freedom by President Barack Obama in 2012, the Saul Bellow Award for Achievement in American Fiction in 2016, and induction into the National Women's Hall of Fame in 2020. 
Some amazing works by Toni Morrison are:
The Bluest Eye (1970)

Sula (1973) 

Beloved (1987)
Some more amazing female writers are as follows:
Octavia E. Butler (1947 – 2006)

Alice Walker (1944 – Present)

Margaret Atwood (1939 – Present)

J. K. Rowling (1965 – Present)
The last say:
In conclusion, these top 10 female writers' remarkable talents have greatly enhanced the world of literature. These women have changed the literary landscape by challenging conventions, challenging social norms, and leaving a lasting legacy. Examples include the groundbreaking voices of Jane Austen and Mary Shelley and the modernist innovations of Gertrude Stein and Virginia Woolf.
Many of these writers got the platform they required to promote their innovative concepts and narratives thanks to the assistance of book publishing professionals and book writing firms. Their writings, which touch on love, morality, socioeconomic status, and gender norms, have impacted literature and society. From Toni Morrison's profound investigation of the Black American experience to Jane Austen's perceptive critiques, these writers have captivated readers and sparked critical discussions and adaptations across numerous media.
Their literary achievements still inspire and educate new generations, making them indispensable characters in the rich fabric of literary history. Their legacy continues to be a vital part of the literary canon. These extraordinary women have demonstrated the transformational power of the written word and its potential to alter culture, challenge norms, and promote social change.

We are the ultimate solution to hire a writer
To make your dream book project come to life, our team of talented writers for hire are here. Test our fantastic and cheap book writing facilities to see the outcomes yourself. We are affordable, profitable, and secure than any other platform.